War, Part Two: Port Arthur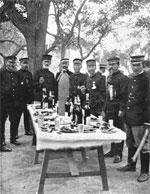 The Japanese landed another army just north of Port Arthur and again defeated the Russians at Nanshan on May 26, 1904, effectively cutting off Port Arthur from any reinforcements. General Nogi moved his army south to begin costly attacks on Port Arthur.
Liao-Yang
The Russians retreated northward to their stronghold at Liao-Yang, where from August 26 until September 4, the armies fought one of the largest battles of modern times prior to World War I. Over 350,000 men battled, with nearly 40,000 killed and wounded. The Japanese were victorious again and the Russians were driven from the Liaotung peninsula, isolating besieged Port Arthur at its tip.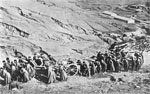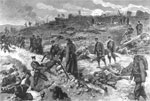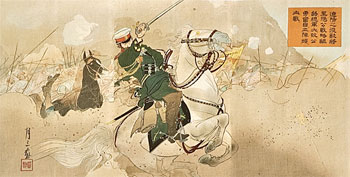 Death of Makarov
The Russian fleet made several attempts to break out of the Japanese blockade of Port Arthur. One of those efforts was on April 13 led by Admiral Stepan Osipovich Makarov, recognized as a preeminent naval strategist. With smaller vessels along side, four battleships, including Makarov's flagship Petropavlovsk, left the harbor of Port Arthur.
When Japanese Admiral Togo's fleet appeared out of the mist, the Russians turned back to the protection of the Port Arthur forts.
Suddenly mammoth explosions rocked the flagship. It apparently hit a floating mine and sank within a minute, killing 635 officers and men, including Makarov. The explosion stunned Togo and when he learned of Makarov's death, he ordered his ships' flags flown at half-mast out of respect for the Russian admiral; in Tokyo funeral processions paid further tribute.
For the Russians, the loss of the great Makarov ended any real hope for the survival of Port Arthur's fleet since they lacked naval leadership.
Manchurian Battles
In the north the Russian army continued to withdraw from Liao-Yang toward Mukden where reinforcements were finally arriving. Since the Russians were planning to send the Baltic fleet around the world to reach Port Arthur, it was essential to keep pressure on the Japanese to prevent Port Arthur from falling.
Kuropatkin's Counter-attack
In October 1904, General Kuropatkin began a counter-offensive south of Mukden at the Sha Ho River. The bloody battle raged for ten days, but ended in a draw with both sides exhausted. This signaled the end of Russia's attempts to reinforce Port Arthur.