PEOPLE
People, Part Four:
United States
After Japan's defeat of China in 1894, the European powers acted in consort to deny the island nation the gains it had sought and that were guaranteed by treaty. Komura was determined that no third parties would again interfere with their negotiations. By 1905, most European nations were aligned by treaty or inclination with either Russia or Japan so a neutral country was needed to bring the belligerents to the peace table. Enter the United States and Theodore Roosevelt.
Roosevelt
The American president, though privately favoring the Japanese, was concerned with the balance of power in the Far East. Because of Russian expansion and European spheres of influence in China, Roosevelt wanted a neutral China and he feared the war might expand into a larger conflict that would threaten America's interests. Roosevelt's back channel efforts during the war and the treaty negotiations were critical to the achievement of peace.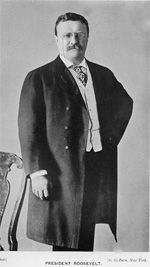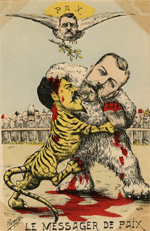 Peirce
Since the Russians and the Japanese insisted on direct negotiations without a third party present, Roosevelt remained at the summer White House. Herbert H. D. Peirce, third under secretary of state, represented Roosevelt and hosted the delegates outside the formal negotiations. Peirce and the Navy handled protocol, the latter a delicate task for they were most successful.
Meyer
George von Lengerke Meyer was handpicked by Roosevelt as United States Ambassador to Russia. He hand carried Roosevelt's suggestions and messages directly to the Tsar.
Schiff
Jacob H. Schiff was the most prominent American Jewish financier of his day. The Japanese were unable to get war loans because as a newly emerged nation they were largely unknown and they were facing Russia, the largest army in the world. Schiff, appalled at the Russian treatment of the Jews, backed large loans to support the Japanese war effort, and was instrumental in blocking American financing for Russia in the war. Schiff told the Japanese that as a banker he could not loan them any money. As a Jew he would arrange for their loan, but "You have to defeat Russia." He later urged Japan make peace.